explore around boston
We are one of America's "most walkable" cities . . EXPLORE!
The Verb Hotel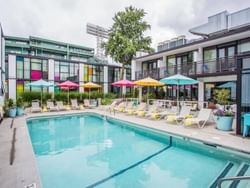 "Energy is so important. If you don't have it, don't bother with Rock & Roll."

Yoko Ono
Located near the House of Blues Boston, Boston Children's Hospital and the Berklee College of Music, The Verb Hotel, gets just about every kind of traveler up close and personal to everything that downtown Boston has to offer. From Fenway Park and Kenmore Square to some of the best colleges and hospitals in the country, this city is alive with incredible experiences. Visit great museums, dine at more than 75 restaurants, shop on Newbury Street… the options are as endless as Rock & Roll itself.