The Flxible #24 Clipper
Learn the history behind our 1947 Greyhound Flxible Clipper!
1947: The Flxible serial #8324 was manufactured and sold to the Liederbach Bus Company in Minneapolis. While in service with Liederbach, the bus hit a horse-drawn trolley. There was considerable damage to the front, and the bus was not drivable. It was flat-bedded back to the Loudonville, Ohio factory. The collision damage was repaired, and the bumpers were upgraded to the newer 50's Flxible look.
Early 1950s: The bus was purchased by Bemidjj Bus Lines, owned by Don Masterson. At the time, the livery was white and light grey. It became a charter bus and #24 in the Bemidji fleet.
1966: It was sold to Dr. Aulick, in the Midwest, who converted it to a personal motor coach for his family. They made several upgrades and renovations, driving it around the country until its sale in 1990.
1990: It was sold to Robert Rosteki in Winnipeg, Manitoba. He used it mostly for trips to Hershey, PA for the annual fall antique car show.
1996: Marc Olimpio saw it for sale at the Hershey car show. He bought it and put an additional $60K into restoring the magnificent vehicle as it exists today. It won numerous awards over the years and was featured on the Speed Channel and Jay Leno's Garage.
2014: Steve Samuels purchased the bus from Marc in Maine, and it becomes a permanent part of The Verb Hotel. Since it has found its new home, it has chauffeured 14 pre-teens to a One Direction concert in Foxboro, MA, been the set of a group photoshoot with the band Guster, and has been used as the set of a series of Boston music scene interviews and small private acoustic performances that are available on The Verb Hotel YouTube channel.
2017: Most recently the bus has been featured in our very first music video with a locally based alt-rock band Dionysia! Their Great Dane got to ride shotgun, woof!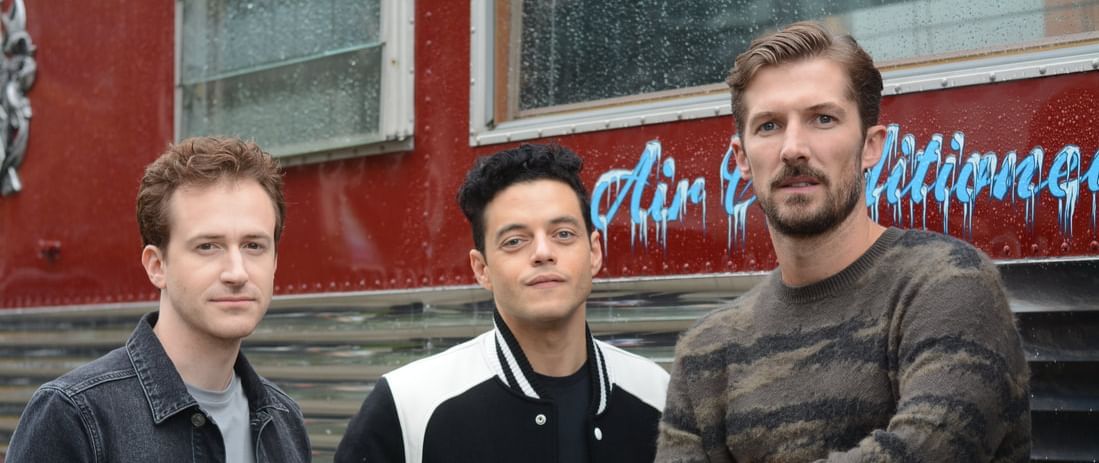 Stars of the 2018 film Bohemian Rhapsody pose in front of the Verb Hotel's landmark Flxible Clipper bus

(from left) Joseph Mazzello, Rami Malek, Gwilym Lee